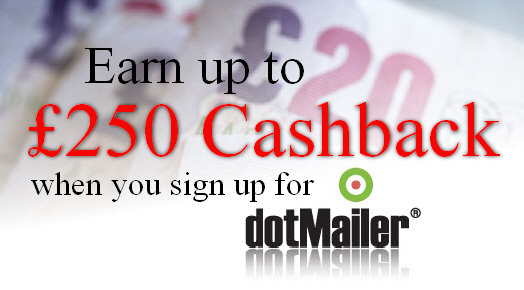 We'll give you up to £250 cashback if you sign up for Dotmailer through the Small Business Database Marketing website! You won't find this offer anywhere else - this is the only place where you can save up to £250 on your Dotmailer licence fee.


Why do we do this?
We're an authorised Dotmailer reseller. Dotmailer pay us a 50% commission for signing-up new customers. All we're doing is splitting that commission with you, 50/50. Otherwise, why would you bother coming to us in the first place? It's a win-win-win situation, absolutely no strings attached.

How does it work?
You simply tell us which Dotmailer package you've chosen and we'll send you the order form to complete and return to us. We'll forward the completed paperwork to Dotmailer, who will deal directly with you from then on, including full technical support. When you settle your first invoice direct with Dotmailer and we receive our commission, we'll send you a cheque for 25% of your licence fee. That would be worth from £75 to £250.
Simple!

Will you be contractually tied in with us?
Absolutely not! We simple arrange with Dotmailer to raise the paperwork, which we then send to you to sign. You return it to us, and we forward it to Dotmailer. You will deal direct with Dotmailer from then on.

Will this affect your arrangement with Dotmailer in any way?
Again, absolutely not. You will have the exact same contractual arrangement with Dotmailer as if you went to them direct from the start. The only difference is you'll have up to £250 extra sitting in your bank account by going through us initially.

Can you get help choosing the best Dotmailer package?
Yes, of course. You can speak directly with Dotmailer to select the best option, then come back to us to complete the paperwork. Or, if you wish we'll give you unbiased help to choose the right system for you based on our own extensive experience of using Dotmailer for our own client campaigns.

Why should you choose Dotmailer?
Dotmailer is the system we've used for several years to create many email campaigns for our clients.
It's powerful, feature-packed, has great technical support, and is based in the UK (which has legal advantages for UK businesses). Find out more about the benefits of Dotmailer here.




Complete the form below and we'll contact you to arrange the next step.




---
TERMS & CONDITIONS - Applies to the Dotmailer Standard, Professional and Enterprise packages. Cashback applies only to the licence fee, and not any additional services. Payment is made by us directly to you following: 1.settlement of your first Dotmailer invoice; 2. payment of commission to us by Dotmailer. We reserve the right to amend or withdraw the offer without notice. The cashback paid is inclusive of VAT. Offer available to UK customers only. Offer cannot be used in conjunction with any other discounts or offers.