Data Capture Forms
Build Targeted Email Marketing Lists
Easily & Affordably

Simple data capture forms are a quick, easy and affordable way to build targeted email marketing lists and mailing lists. They're an essential first step in building the ultimate small business marketing tool - an opted-in database.

Capture forms are not new or innovative, and you may have seen or used them before. There's nothing technical or 'virtual' to these, just good old-fashioned pen and paper! They usually take the form of a tent card or postcard, and might be an invitation to join a mailing list, a request for customer feedback or a competition entry form.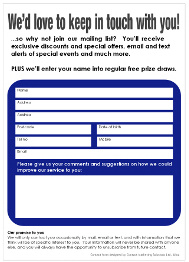 Here's why you'd be CRAZY not to use them...
Data capture forms really are a no-brainer option in the battle for customer data. If you're not already using them, here's why you should:
Cost very little to produce


Work continuously and automatically for you, with minimal staff involvement


Target customers who are by-passing other ways of capturing data, eg who are not being processed through a guest registration or point of sale system


Generate significant amounts of detailed data on customers, including profiling and segmentation


Capture customer data AND invaluable feedback simultaneously.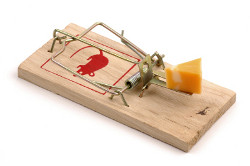 Keep it simple and make it sweet!
There's no need to make capture forms complicated, but there has to be a clear, strong reason for customers to fill them in.
We encountered a small country hotel in England recently that was running a free prize draw to win a weekend stay for two. A sign was placed on the bar and, to enter, customers simply filled in some basic details on a small piece of card and deposited it in a container (a glass jug!).
Basic and cheap, but - judging by the number of capture forms crammed into the jug - very effective.
WARNING
Customer data is always best acted upon when fresh and new, so the data must be added to your database as soon as possible.

Designate a member of staff to process the capture forms and manage the data for you, or outsource the work. Otherwise, you'll simply waste your time, effort and money.


UK businesses - make sure your data capture forms comply with the Data Protection Act and the Privacy & Electronic Communications Regulations



---
Don't start using data capture forms without a routine for processing the captured data. Otherwise, it's guaranteed you'll rapidly accumulate large amounts of completed forms that will simply gather dust.

Plus, your customers WILL remember that they took the effort to complete the card but have heard nothing since. It makes your efforts at customer care look nothing more than a hollow gesture, and will not reflect well on your business.

You have been warned!
---
This website is chock full of free information and tips. Try these pages...
To leave data capture forms and discover more ways to make database marketing work for YOUR business, visit our homepage>>