Free Email Newsletter Templates
Part 1 of Using and Creating Templates

Free email newsletter templates come with almost every email direct marketing tool, including the one that we use and recommend. They're the default option for most small businesses. However, as we'll see, free templates are not the only - or even necessarily the best - option.

By the way, all the email delivery systems we review in our Quick Comparison Guide come with (sometimes) hundreds of free email newsletter templates. A couple of the systems even have free versions, so you could be creating and sending email marketing at absolutely no cost.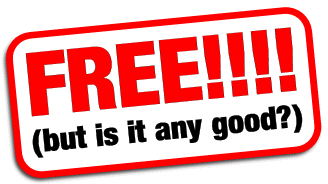 Using free newsletter templates
PROS - professionally designed; robust, and will display properly in most email systems; (relatively) quick and easy to use.

CONS - the design is not unique to your business and templates may be used by lots of others; they can be inflexible, and you may have to adapt your newsletter content to suit the template, rather than the other way round.
You'll want to customise free email newsletter templates to replicate your website and corporate branding, keeping a thread of consistency through all your marketing.
Customise your template with off-the-shelf
graphics & images

This is by far the quickest and easiest way to transform a free template into something original and impressive. Off-the-shelf packages such as
The Marketing Graphics Toolkit
contain hundreds of professionally designed banners, buttons and templates that are ready to adapt and use.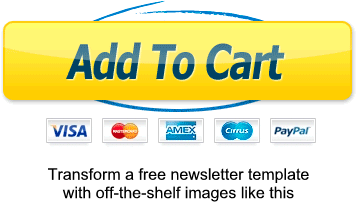 Combine these with royalty-free stock images from the likes of Bigstock Photo (a favourite of ours) and you'll radically improve the look and feel of free email newsletter templates.



...or create your own graphics


It's a bit of a glib statement, but having just a basic working knowledge of a graphic editing package will hugely increase the customisation you can give newsletter templates.

Using a package like Serif Drawplus (there is a free version), Adobe Photoshop or GIMP (which is also free) can enable you to create your own thumbnails, buttons, web 2.0 effects, drop shadows, banners, even a scan of your signature.




The images you see here were created in Serif Drawplus, and not difficult to do. Packages like Drawplus include a library of images such as email buttons that are ready to have your text added. Effects like drop shadows can be created automatically with one or two clicks.


Template Do's and Don't's
Try to limit images to around a maximum of 25k in size, although we sometimes stretch that to up to 50k for really important images such as a newsletter masthead.


Use jpg for photos and other images with lots of complex colour gradiations. Use gifs for simpler images with blocks of solid or flat colour. PNGs are a good all-rounder for images that combine pictures, graphics and text, although they can be bigger in file size than the other two.


Use websafe fonts, and - to a lesser extent - websafe colours (except when you create your own graphics, which can have any fonts or colours you like).


Keep the width of email templates between 600px (which is reckoned to be best for mobile browsing) and 650px. This ensures your newsletter is visible on most size monitors.


Try using orange for a link button. It's reckoned to be the most effective colour to get the click.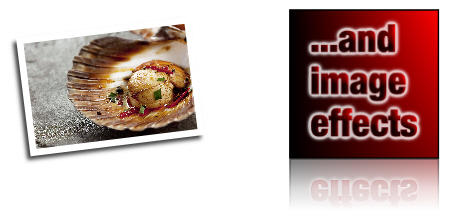 Include essential information and features
Remember to incorporate certain key elements such as an unsubscribe link, web version, company registration details etc into free email newsletter templates.

For a full list download our free email marketing plan checklist.


Strike a balance between graphics and text
Avoid adding too many images to email newsletter templates. It's important to strike a balance between graphics and (HTML) text. Email spam filters don't like a high proportion of graphics to text.

Plus, if images have been blocked by the recipient's email system, having some text still visible means you can clearly identify yourself and get across the core message of the email.


---
I really would urge you to take the time to learn some basic techniques in a graphics package. You'll be amazed at how easy - and addictive - it is, and your email newsletter campaigns will really stand out.

A word of warning, though - don't overdo it! Too many effects such as drop shadows can look amateurish. Start saving good examples of newsletters from other businesses and emulate some of their styles and techniques.
---
Take a look at these case studies of real campaigns:
There's much more to database marketing than email. To leave free email newsletter templates and find out more take a look at our homepage>>