The Ultimate Small Business Marketing Solution?
A Customer Database!
...and here's exactly how to build one
This is our ULTIMATE guide to creating the ULTIMATE small business marketing solution - an opted-in customer database. It will show you exactly how to build one and use it to drive email campaigns, text message marketing, mailshots and more.
We've taken everything from this website, added bonus information, tools and checklists, and crammed it all into one big, convenient bumper pack that will get your small business database marketing off to a flying start. Even if you already have a customer database, there are tons of information, advice and ideas to take your database marketing to new heights.



The DIY Database Marketing Booster Pack contains:
The Step-by-step Guide to Database Marketing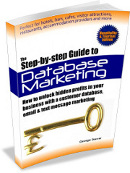 This 128 page ebook is jam-packed with information, ideas, guidance, and case studies. It's a no-fluff practical guide to creating and using your own ultimate small business marketing solution: an opted-in customer database.
The ebook contains everything you need to tackle database marketing yourself, WITHOUT the need for expensive business consultants. Here are some of the topics covered:

Where to find customer data, and which data to collect
Using other businesses databases
Buying data
Using simple capture cards
Attracting customers with prize draws
Complying with the Data Protection Act
An introduction to CRM
Database segmentation
The power of filters
The value of dates
Backing up your data
Choosing an email delivery system
Creating your email and what NOT to do
Testing your campaign
Advanced email techniques
Downloadable content, including discount vouchers
Links to real-life live campaigns
Text message marketing and why you should use it
Tips for an effective text campaign
Mailshots, telesales, faxes and the law
Screening your data
Email campaign statistics
Subscriber feedback
Four golden rules of database marketing
(Please note the current version cannot be viewed on an iPad)


PLUS...
Bonus Checklists & Factsheets:
Step-by-step checklists to make data management, email marketing and text message marketing easy


Factsheet and suggested Terms & Conditions for running a prize draw to attract subscribers


An easy to use flowchart that will instantly tell you if you comply with anti-spam laws


A dummy sheet to create your own data capture form


Our popular and free Quick & Easy Guide to Choosing the Best Email Marketing System for YOUR Business (in case you haven't already downloaded it)
Here's what the Booster Pack will do for you
Keep you safe by avoiding anti spam laws and Data Protection pitfalls


Show you shortcuts to save time and work


Squeeze much more out of your marketing budget


Provide a huge source of inspiration and ideas to use in your marketing campaigns
...and if it doesn't?
Make no mistake, building and maintaining the ultimate small business marketing solution takes time and effort. The DIY Database Marketing Booster Pack will NOT do that for you - that's
your
job!
However, it WILL drastically reduce the workload, cost and learning curve for you, meaning you hit the ground running and see profitable results much sooner. But if for some reason it doesn't live up to our promise, we'll refund your money, no questions asked.

See the message from George below.


So what are you waiting for?
This is a digital product available for instant download. So, you can start building your own ultimate small business marketing solution right away.
Have any questions about the Booster Pack or anything else? Don't hesitate – get in touch today.



---
| | | |
| --- | --- | --- |
| | | Well, this is it. Pretty much everything I've learned about database marketing over the years. All in one big, bumper package. FOR UNDER A TENNER! Believe me, you'll save AND earn many, MANY times that amount with this Booster Pack. I guarantee that, too. If it doesn't live up to my promise, please let me know within 6 months of purchase. I'll immediately refund your money, and you can still keep the Booster Pack . |
---
Here's some more info we think you'll like:
To leave small business marketing solution and discover more about database marketing, visit our homepage>>