Email Marketing Systems -
Download Our FREE Comparison
Guide to 5 of the Biggest

There are hundreds of email marketing systems out there. Which is best for YOUR business? Wading through all the options can be a difficult, stressful and time-consuming chore.
Our FREE guide has been written to help make the task quick and easy. Our extensive experience and expertise of using email marketing systems means we can advise you how to narrow down the options, explain the features you might want and why, and help lead you to the system that's precisely right for YOUR requirements, YOUR budget, YOUR business.
The Guide includes a side-by-side comparison of five of the best-known and longest established systems on the market: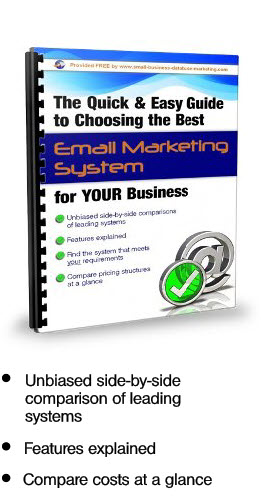 Constant Contact


Mailchimp


Campaign Monitor


Dotmailer


iContact
We compare these systems on areas such as:
Cost and pricing structure, including hidden extras


Whether they have any free or 'lite' versions


How they handle customer contact data


Email design features, including free email newsletter templates


Email delivery and tracking features
...and much more
It will surprise you how these email marketing systems vary in features and pricing, and there are two clear best buys.
Even if your intended choice isn't in our guide, this will give you a shopping list of the features and systems to look out for.
Take the guesswork and worry out of picking the system that suits your needs and budget.

"Fantastic Comparison Sheet"
Olga from Choose Healthy Food


---
| | | |
| --- | --- | --- |
| | | When we first started email marketing, we went through several different email marketing systems before settling on our final choice. It can be difficult to sort the wheat from the chaff, and sometimes you only realise you've picked the chaff when it's too late to save an email campaign! By downloading our guide, you could save yourself a lot of potential grief and expense. |
---
How to Download
Simply enter your details in the form below. You'll then receive an automated email containing a download link for our Quick & Easy Guide to Choosing the Best Email Delivery System for YOUR Business. The email will also contain links to our other free factsheets and checklists for you to download if you wish.
PRIVACY POLICY - I hope you've seen enough on this website to realise we take the issue of your contact information very seriously! You have my personal guarantee that your data will always be held securely, and NEVER passed to anyone else. We will NOT choke up your email in-box with a never-ending stream of useless newsletters. We may use it to very occasionally (I promise) send you some information that is relevant and valuable. You will of course always have the chance to unsubscribe instantly at any time.


---

We'd recommend you also visit these pages...

To leave email marketing systems and learn more about database marketing, return to our homepage