There's More Than One Way to Create
an Email Marketing Newsletter
Part 2 of Using & Creating Templates

An email marketing newsletter can be created in several ways. Here's a clever solution to avoid the use of HTML, beat spam filters and still deliver killer marketing content.

See Part 1 of Using & Creating Newsletter Templates for guidance on using free email newsletter templates.



Create a plain text email with a link to a downloadable PDF newsletter
A PDF (Portable Document Format) can be viewed by anyone whose PC has the free Adobe Reader software. It's a great option if you have a large volume of content, or have content you want subscribers to print and keep. There are links to a couple of examples of PDF email marketing newsletter further down the page.
STEP 1
Create a newsletter in your DTP (Desktop Publishing) software. We use and recommend Serif PagePlus, but even MS Word is an option.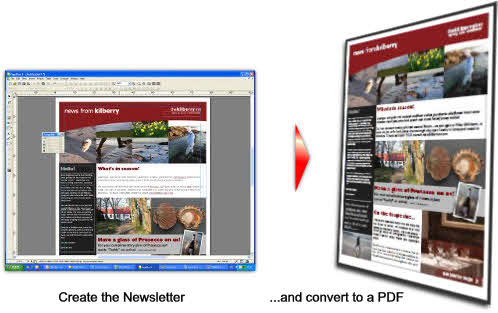 STEP 2

Convert the newsletter to a PDF. Your DTP software will be able to do this. Keep the file size to something manageable, around 300k-400k, to reduce the download time for subscribers.

STEP 3

Upload your PDF marketing newsletter to webspace. Your email delivery system may offer this option (our recommended system does). If not, then you will need access to webspace and a piece of software called an FTP (File Transfer Protocol) client to upload the PDF.

STEP 4

Create a plain text email in your delivery system. Note that the PDF is NOT attached to your email. Attaching PDFs to email can trigger spam filters. Instead, your email will contain a link for recipients to click and download the PDF.

STEP 5

Send your email.





PROS
The PDF marketing newsletter can be created completely free of the restrictions of HTML email design, making it much easier and quicker to design


The PDF handles larger volumes of content much more efficiently.


The recipient has the option to save or print the newsletter, so it's great if you have content you'd like them to keep (eg a recipe).


The PDF can include a promotional voucher to print and redeem, so you can track the response rate and capture specific or detailed contact information. Hardcopies of the PDF can also be printed and distributed by hand.


Your delivery system will record the number of PDFs downloaded, and by which subscribers


A plain text marketing email has a greater chance of avoiding spam filters
CONS
Limited delivery metrics, so you won't know how many people clicked on links in the pdf.


Adds an extra layer of 'click' between subscribers and the newsletter


No branding in the email
Almost everyone has Adobe Reader, but it does no harm to include a link in your email to allow subscribers to download it for free if needed.
Or create a simple graphic email
If you don't like the idea of dispensing with your logo and branding, use a simple graphic email to deliver your PDF email marketing newsletter. Try adapting one of the free newsletter templates that come with your delivery system.
This also gives you the opportunity to include a nice big 'Call to Action' in the shape of a big download button.
Here are some examples of PDF marketing newsletters delivered via a simple graphic email:
This example email marketing newsletter is for a sports injury clinic. The PDF includes an example of a redeemable voucher.
Click on the image to find out more.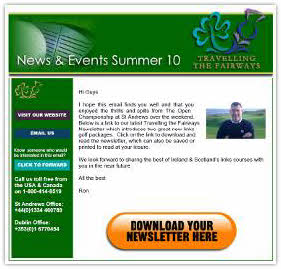 This email marketing newsletter is for a golf tourism business.
Click on the image to find out more
---
Admittedly, this approach does introduce an extra click between the subscriber and the newsletter, and that's not ideal. However, if you have a lot of content then it's infinitely better than having a never-ending email.

Plus, being free to design your main newsletter in a DTP package is MUCH easier than creating an HTML email.
---
Before you start sending campaigns you should take a look at these pages:
To leave email marketing newsletter and find out more about the potential of database marketing, stop by our homepage>>