Using Simple Email Marketing Templates
to Deliver Content-rich Campaigns
Example No1

Elaborate email marketing templates are NOT essential to deliver highly effective and content-rich campaigns. As we saw in Part 2 of Using & Creating Templates, there are clear benefits from creating an email marketing newsletter in PDF format.

This can then be delivered via a 'covering' email using one of the stock templates within your system or by creating your own customised templates.

Click on the image below to see the online version and to download the PDF newsletter.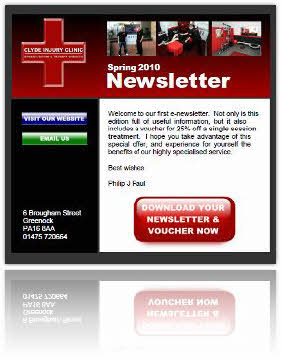 CASE STUDY
KEY CAMPAIGN FEATURES:
lots of content, promotional discount offer
Business name:
Clyde Injury Clinic
Business type:
sports injury treatment centre
Location:
Greenock, Scotland
Our brief:
to create an inaugural email campaign, incorporating a promotional discount
Here's what we did:
Step 1: create the newsletter using DTP software and incorporate a voucher for the promotional discount


Step 2: convert the newsletter to a PDF


Step 3: upload the PDF to our webspace


Step 4: create the 'covering' email with a download link to the PDF newsletter


Step 5: deliver the campaign
There was too much content for a standard email newsletter, so we recommended using a PDF. This also meant that the response rate to the promotional discount could be tracked very precisely, based on the number of vouchers redeemed.
Although the covering email was designed and created by us from scratch, it would also have been possible to adapt and use one of the free templates within our delivery system.
Either way, having the ability to design a custom download button, adapt the colour scheme and incorporate pictures and logo from the business website is very important in customising email templates to match the business branding.
---
| | | |
| --- | --- | --- |
| | | Content-rich with a trackable promotion. That's the kind of marketing that means business! |
---
There's lots more to discover. Try these pages:
To leave email marketing templates and discover the benefits of database marketing, take a look at our homepage>>