Download The Email Marketing Plan Checklist and stay efficient,
profitable and legal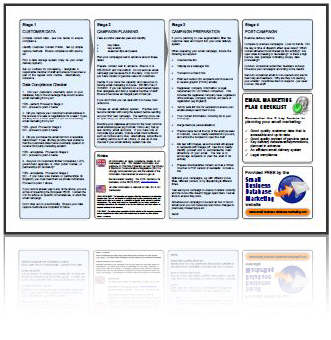 This handy and concise email marketing plan checklist covers all the major issues you need to consider when creating your email campaigns.
Data collection
Data protection and anti-spam compliance (UK businesses)
Campaign planning
Campaign preparation, including a list of essentials to include in your campaign
Post campaign analysis
Don't leave anything to chance. Download the checklist today.
---
PRIVACY POLICY - I hope you've seen enough on this website to realise we take the issue of your contact information very seriously! You have my personal guarantee that your data will always be held securely, and NEVER passed to anyone else. We may use it to very occasionally (I promise) send you some information that we will ensure is relevant and valuable. You will of course always have the chance to unsubscribe instantly at any time.

---



Here are the 5 key components of an email marketing plan

To leave email marketing plan and explore lots more about database marketing, go to our homepage>>