Examples of Joint Ventures
Using a Business Joint Venture to Access
Other Customer Databases
These examples of joint ventures using email neatly illustrate how to access the customer databases of other businesses. This is a quick, easy and legal way to reach new customers, as also illustrated in this other example of a business joint venture using direct mail.

Joint ventures work best between businesses that share a similar customer profile and offer a complementary product or service. As the following examples of joint ventures show, that can sometimes involve an unexpected marketing mix!

CLICK ON THE THUMBNAIL IMAGES TO SEE A BIGGER VERSION



Joint Venture 1
This is between a UK classic rock radio station, Planet Rock, and Audible, producers of audio books. Not an obvious pairing, but on closer inspection many of the titles are a perfect match for Planet Rock's typical listener, who's likely to be male, aged maybe 35 and over.
Note how the offer is exclusive to Planet Rock listeners, which definitely adds value to the email.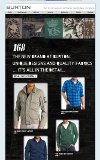 Joint Venture 2: a 3-way split
This joint venture involves Burton (a UK clothes retailer), LoveFilm (an online DVD rental service), and a third party - Dominos Pizza. It's aimed at a slightly younger customer group, probably aged 25 years and over, but still male.
Again, these are examples of products that are not directly linked in an obvious way, but are likely to be of interest to this type of customer.
Any legal issues?
As these examples of joint ventures involve email marketing, the Privacy and Electronic Communications Regulations (PECR) require that customer data is used only to market 'similar products or services'.
It was also pointed out in the example of a
business joint venture
using direct mail that care must be taken not to stretch the boundaries of the Data Protection Act UK in terms of 'unreasonable, unrelated or unexpected use of customer data'.
Use common sense and restraint, and make sure the offer is so good that customers see it as a bonus.
---
I myself received these examples and thought them an excellent marketing approach, as well as nice little bonus offers to email subscribers.

And as I've said many times before, successful email marketing is all about providing content of VALUE. Joint ventures certainly offer an alternative way of doing that.
---
Don't stop here - there's lots more information at these pages…
To leave examples of joint ventures and start at the beginning, go to our database marketing homepage