Targeted Opt In Email
Marketing Case Study
Using Clicks-through & Landing Pages

This case study of targeted opt in email marketing uses an opted-in business marketing list plus clicks-through & landing pages for a competition entry. Simple but very effective!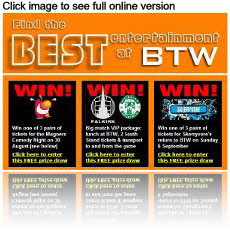 CASE STUDY
KEY CAMPAIGN FEATURES:
opt in customer database, targeted clicks-through to record entries to 3 separate prize draws
Business name:
Behind The Wall
Business type:
A well-established and busy city-centre bar and restaurant with lots of regular events.
Location:
Falkirk, Scotland
Our brief:
create a targeted opt in email marketing campaign to promote a number of forthcoming events. There were also three free-to-enter prize draws exclusive to email subscribers.
Here's what we did:
Step 1: Create 3 separate opt in weblinks in the email, one targeted for each prize draw


Step 2: create 3 landing pages (each one effectively a one-page mini 'website')


Step 3: use our email marketing software to track and record the email address of each individual who chose to opt in by clicking on the prize draw weblinks
Because there were three separate links, we were able to provide the client with three lists of everyone who entered, one for each draw. The winners were then randomly drawn from those lists.
Landing Pages
Creating the landing pages did involve building three simple webpages and uploading them to our own webspace. If you find this daunting, you could:
check if your email delivery system has the facility to build single page mini sites, or


build each landing page as a dummy campaign in your email delivery system. This will create a web version of each landing page/campaign (used in the 'Email not displaying properly?' feature) with their own weblink. These links can then be embedded in the main email newsletter.
---
| | | |
| --- | --- | --- |
| | | Exclusive interactive content like this helps keep subscribers interested in your email campaigns. Using targeted weblinks to record entrants to the prize draws is a neat, simple and paper-less way to run this kind of promotion. |
---
Here's some more information you might find interesting…
Click here to leave targeted opt in email marketing and visit our database marketing homepage>>