AB Testing Your Email
Marketing Campaigns
AB testing, also known as split testing, can cut the guesswork and get maximum results from your advertising. It's especially effective and easy for email campaigns because of the availability of email marketing metrics.
It's a technique used to identify which version of a campaign gets a better response than others. Once you've identified the AB version with the best response, repeat the process in subsequent campaigns.
The Golden Rule
When AB testing,
make just one change at a time
. Otherwise you'll never know which change made the difference.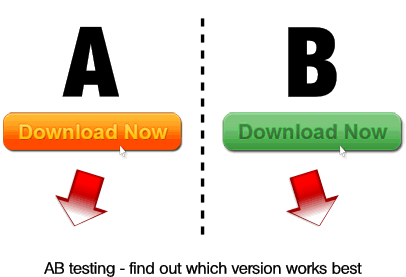 What to Test
AB Testing can be used with email campaigns in a number of different ways, such as:
In-box title
With just 2 to 3 seconds to grab someone's attention, the in-box title can make the difference between a successful and unsuccessful campaign. Try two different versions and see which one gets the highest open rate. Sometimes just changing one word can make all the difference.
Different content
You'll need to have some means of measuring the response to the different content, such as a link to 'click here and find out more'. Your email delivery system will tell you which article generated most reaction.
If your system has dynamic content, you can use it to very easily and automatically create two versions of the same campaign.
Layout & design
Change the order of articles or the location of a key Call to Action to see which AB version generates most activity (especially links clicked).
Try also some subtle visual changes, such as font type, size or colour, the background colour, button type and colour etc.
Customer segments
Hopefully you'll have a well-managed and up-to-date customer database with segmentation. By sending identical campaigns to two different customer segments you can track which customer type responded best.
Special offers or discounts
Say you're a restaurant and want to offer either a free bottle of wine with every meal for two, or an offer for 2 people to dine for the cost of 1. Which version would your customers prefer? Use AB testing to track the response rate to both. You'll need some means of measuring response rate, such as a downloadable voucher or text coupons.
Day or time of dispatch
Forget what the 'experts' say, if you've ever wondered what day or time is best to send an email campaign, here's how you find out. With split testing you can find out when YOUR customers respond best to YOUR campaigns. Track the results over several campaigns to see what patterns emerge.
This is one instance where you could reasonably split test with more than two versions.


---
Almost every kind of marketing can use AB testing. It goes way back to the good old days of cutting out a coupon from a newspaper. Count the coupons and bingo! the advert producing most coupons is the best.

The beauty of email is it gives you reams of instant data about how your campaigns are performing. Comparing them then is easy!
---
This website is packed full of more info. Why not visit these pages…
Leave AB testing and go to our database marketing home page